Computer Labs
The Vidyashala has updated computer labs with the latest Pentium III systems. The students of all classes get essential computer skills during regular classes. Computer Science is also provided as an optional subjects for Pre University Course in the Vidyashala.
All the computers are connected to the central hub through a 10/100 Mbps LAN. The lab also has a Central Server. There are about 12 computers in each of the two labs.
The labs are equipped with a good collection of educational multimedia CDs. Regular multimedia sessions are conducted after supper. Students can browse through syllabus oriented multimedia CDs.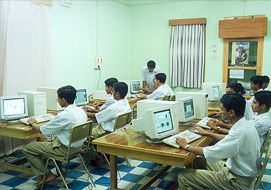 The Vidyashala Computer Lab
---